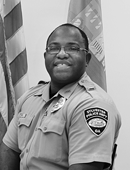 At approximately 3 p.m. today, Sylvester Police Lieutenant George Hall was arrested by members of the Sylvester Police Department. He has been charged with Violation of Oath of Office, Making False Statements, and Tampering with Evidence and is currently in the custody of the Worth County Sheriff's Office.
The case was turned over to the Georgia Bureau of Investigations. No further details or information can be released at this time due to the ongoing investigation.
Hall has been employed with the department since 2005 and currently serves over the patrol division.