The Tifton-Tift County Chamber of Commerce and Tift Regional Medical Center (TRMC) recently presented special awards to internal medical physician Dr. Joe Turner for serving as a pioneer for the local medical community. 
 The Tifton-Tift County Chamber of Commerce presented the Stafford Award to Dr. Joe Turner at its annual banquet on Jan. 29.    The chamber recognized Dr. Turner for his achievements and community impact as an internal medicine physician, founder of Affinity Clinic and medical staff leader at Tift Regional Medical Center (TRMC).   The award was presented by last year's Stafford Award winner, Dr. David Bridges, president of Abraham Baldwin Agricultural College (ABAC).  Dr. Bridges said that Dr. Turner "was instrumental in recruiting more physicians to the area and shaping the services provided at Tift Regional Medical Center."   Established in 1974, the Stafford Award recognizes a local business leader who has made significant contributions to local economic growth. 
 February 14 will mark the 51st year that Dr. Joe Turner has served Tift Regional Medical Center (TRMC) as a medical staff physician. The team at the Heart and Vascular Center honored Dr. Turner at a luncheon in December with an achievement award for "blazing the early trail" in cardiology at TRMC.  Before there were cardiologists on the TRMC medical staff, Dr. Turner was the only physician in the area who  performed and interpreted cardiovascular studies.  
 Dr.  Turner is the first to receive this award, which was developed by the Heart and Vascular Center's Team Spirit Committee and Dr. Jonathan Tronolone. Recipients of the award are to embody the seven elements of the Heart and Vascular Charter, which was established in October and signed by all physicians and employees of the Center to commit to excellence in patient safety, the patient experience, and efficiency in the Center. The Center will continue this luncheon annually and will award The Joseph Turner Heart and Vascular Center Employee of the Year in Dr. Turner's honor.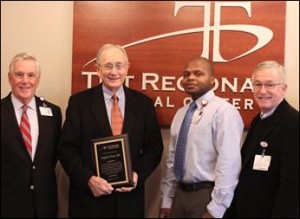 "The Heart and Vascular team was so honored to be able to present Dr. Turner with this award.   His service and contributions have led to the success of TRMC and Cardiology.  On behalf of all who have benefitted, we thank him for blazing the early trail," states Demarius McRae, Director of the Heart and Vascular Center at TRMC.
 The Team Spirit Committee saw it fitting that Dr. Turner receive this award. Among his tireless dedication to Tift Regional, the many improvements he has brought to the health system include the automatic external defibrillator, a new intensive care unit, pacemakers, Swan Ganz catheters, stress tests, holter monitors, and echo cardiograms.  Dr. Turner was also the first cardiologist to utilize the Swan Ganz catheter in the state of Georgia.
 "I decided to come to work for Tift Regional back in 1964 because I knew it was on the verge of growth and great progress. The administration over the years has done an admirable job of managing this health system and it has certainly grown and progressed with vigor. I have very much enjoyed the time I've spent working for TRMC and continue to enjoy working here. I was extremely honored and completely surprised to receive this award," states Dr. Turner.  
 Dr. Turner graduated from Ashburn High School in 1949, then received his BA from Emory University in 1954. He received his Medical Degree from the Medical College of Georgia in 1960, followed by an internship in 1961 and medical residency at Grady Hospital in 1964. He completed his cardiology fellowship at Grady Hospital in 1963. Upon becoming a member of the Tift General Hospital medical staff, Dr. Turner founded the Tifton Medical Clinic in 1964, which later became Affinity Health Group.
 During his time at Tift Regional, Dr. Turner has served as Chief of the Department of Medicine from 1966-1968 and again from 1972-1976. Dr. Turner also served as Chief of Staff from 1970-1971 and was a member of the Tift County Hospital Authority from 1981-1994.
 Dr. Turner is active in the community and volunteers with the Tift County Library Foundation, the Tifton-Tift County Tourism Board, Rotary Club, ABAC Presidents Club, the Tift Regional Medical Center Foundation, South Georgia Banking Company and the Georgia Forestry Association. He is also an active member of First Baptist Church.
 His professional memberships include the Tift County Medical Society, Georgia Society of Internal Medicine, Georgia Heart Association, Tift County Health Department, and Georgia Department of Human Resources.
Dr. Turner married Bette Womack in 1957. They have five children and five grandchildren. Dr. Turner continues to work in the Heart and Vascular Center at Tift Regional Medical Center.