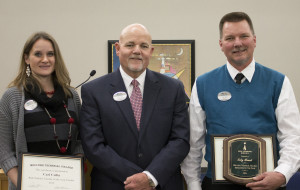 MOULTRIE, GA. Moultrie Technical College (MTC) Automotive Technology program instructor Toby Heard of Adel was selected recently by his peers at MTC as the school's nominee for Georgia's Rick Perkins Award for Excellence in Technical Instruction. The announcement was made at an awards luncheon in Moultrie on Jan. 29.
Heard teaches at Tift County High School through the College's dual enrollment program. Students who take dual enrollment classes gain both high school and technical college credit toward graduation simultaneously.
MTC's High School Coordinator Mandy Ponder commented, "If you ask any high school student [at Tift County High School] about Mr. Heard, they will say 'he cares.' Students are skilled in the automotive industry as well as skilled in life lessons upon completion of his program. The ethics he instills are second to none as he teaches by example."
"Being chosen as the recipient of the Rick Perkins award for Moultrie Technical College is a real honor to me. I am humbled, because there are so many fine instructors at MTC and those instructors chose me as instructor of the year," said Heard of his accolade.
Accounting program instructor Cari Colby, who teaches on the Moultrie Veterans Parkway Campus, was also a finalist for the 2015 award at Moultrie Tech along with Heard. Colby, of Worth County, earned finalist status for the award in 2014 as well.
The announcement of this year's victor marked an historical moment for MTC, as Heard will be the last Rick Perkins award winner under the name of Moultrie Technical College after 50 years as an institution. MTC is scheduled to merge with Southwest Georgia Technical College out of Thomasville on July 1 to form the new Southern Regional Technical College, pending approval from accreditor SACSCOC.
Named in memory of Thomas "Rick" Perkins, an instructor at West Central Technical College who received the Department of Technical & Adult Education Commissioner's Award of Excellence prior to his untimely death, the award is the Technical College System of Georgia's (TCSG) version of an "instructor of the year" honor.  It is presented to the person who has shown the most dedication to the job, commitment to students, and skill in the classroom.
Heard says his motivation to teach came from his past instructors both at Ford Training Centers and automotive schools he has attended throughout his career. Those instructors inspired him to share the knowledge he gained at those facilities, and he says it has changed the lives of some of the students he has taught.
"Many students who complete his program at the high school choose to continue their studies in automotive by driving to the MTC campus in Moultrie. This is a testament of his leadership and passion," said Ponder. "I have been honored to work with Toby for seven years and look forward to him molding many more successful students in the future."
MTC's Acting President Jim Glass said of Heard being his colleagues' choice, "Moultrie Technical College is very fortunate to have an instructor of Mr. Heard's caliber represent us as the Rick Perkins award winner. His dedication to hard work and student achievement is evident in all he undertakes, and I am extremely proud of him."
Annually, all 23 technical colleges, plus a Georgia Regents system school with a technical division, nominate an instructor to represent their colleges for the statewide honor. Nominees then compete on a regional basis.
Heard will compete with instructors from Albany Tech, Altamaha Tech, Bainbridge College's technical division, Okefenokee Tech, Savannah Tech, South Georgia Tech, Southwest Georgia Tech, and Wiregrass Georgia Tech for the South Georgia regional title on Feb. 25 at Moultrie Tech's Tifton Campus.
Finalists from each technical college region will be selected prior to TCSG's GOAL and Rick Perkins awards week in April and will go on to compete for the state honor during that week in Atlanta.
"I congratulate Mr. Heard on being named one of Georgia's top 23 instructors, and I look forward to his continued success at the state level," added Glass.
The state Rick Perkins Award winner serves as an ambassador for technical education in Georgia. He or she will make public appearances throughout the year including addresses to the Georgia General Assembly and the Georgia Technical College System Leadership Conference in the fall.
Heard said, "I am proud to be part of the Rick Perkins alumni and an instructor at Moultrie Technical College."
A journeyman technician for 24 years, Heard earned an Automotive Technology diploma from Wiregrass Georgia Technical College in Valdosta. His professional credentials include obtaining certification as an Automotive Service Excellence (ASE) Certified Master Technician in levels A1-A8, as an ASE Advanced Engine Performance (L1) technician, and as a Certified Basic Car Audio Installer. Heard was also a Ford Senior Master Technician for ten years.
Prior to joining the faculty at Moultrie Tech in 2007, he worked as an automotive technician, an ASE Master Technician , and as a certified California Bar Smog inspector from 1988 to 1995 at Accurate Auto Care in Livermore, California.
With a move to Adel with wife Dyane in October of 1995 to be closer to family, Heard joined the staff of the Cook County Ford dealership as a Ford Senior Master Automotive and Diesel Technician and an ASE Master Technician (L1).
After 12 years working directly in the automotive industry, he was hired to use his hands-on experience in the field to instruct Automotive Technology program students at Moultrie Tech in the fall of 2007. Heard is based at the MTC Tifton Campus but spends most of his time in instruction to students at Tift County High School in the MTC dual enrollment program.
Among his professional affiliations, he serves as the co-chair for SkillsUSA Georgia Region 7 student organization and is the post-secondary director of the Trade and Industrial Educators of Georgia (TIEGA) board.