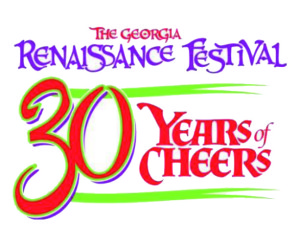 The 30th Annual Georgia Renaissance Festival's gates swing open again this weekend (April 25 & 26) for Roman Weekend, the biggest Toga Party of the 16th Century! "It's also a great opportunity to celebrate the end of the college school year, so this weekend only, College Students can show their valid college ID at the gate and get in for only $5", said Director of Marketing, Robin Moon. Of course there will be costume contests and special games like bocce ball too.
"If you have never seen 'Roman Riding', make your way to the Joust Arena where you will see one knight ride 2 horses – At the same time!", said Entertainment Director, Dave Dorrell. "You will be on the edge of your seats as these highly skilled performers execute daring feats of skill on horseback. In addition to Roman Riding, you will see chariot races, trick riding, and knights battling to-the-death with lance and sword." The brave knights of Equus Maximus perform every weekend at the Georgia Renaissance Festival in their only U.S. appearance in 2015.
This weekend is also Pet Friendly Weekend sponsored by Stivers Subaru in Decatur. It's the one weekend each year that patrons may bring their dog (or cat) on a leash and take part in the Pet Costume Contest. Some restrictions apply, so please visit the Festival's website at www.GArenfest.com for the details and pre-registration information for your furry friends.
Those who have never been to the Festival, or haven't been there since high school will be amazed at what all there is to see at the 30th Annual Georgia Renaissance Festival. Once inside the gates, patrons can feast like Royalty on giant smoked turkey legges, frothy ales and other fine fare from the pubs and eateries sprinkled around the Village. Entertainment for all ages is abundant with over 150 shows each day performed on 10 stages. Everything from circus-style acrobatics, comedy and improv, music, dance and the main event, The Joust – It's a full day of endless entertainment for all ages.
The Village is home to over 150 arts and crafts merchants, demonstrating artisans providing one-of-a- kind treasures from Renaissance clothing, hand-blown glass art, jewelry, pottery, paintings, weaving, leather-crafting, stained glass artistry and more. This Renaissance art faire is a shop 'til you drop collectors dream.
Other notable additions in celebration of the 30th Anniversary include…
Premium Joust Seating: Faire goers can upgrade to VIP Seating INSIDE the Joust Arena on the Royal Reviewing Stand in shaded and cushioned seating with the Queen and her Court. After the Joust these VIPs are treated to a meet 'n greet with the Knights – A photo opportunity that will last a lifetime.
The Wheel of Death – This 30-foot tall, spinning monstrosity is Icabod Wainwright's personal playground. His death-defying antics and skill will thrill and amuse you as he performs inside and outside of this giant medieval "hamster wheel". You have to see it to believe it! You're guaranteed to have sweaty palms while watching this show!
Dream Hayven Farm – Not only educational, but this magical interactive animal discovery garden features Kira the Unicorn with other exhibits of animal heritage breeds of the 16th Century including Fell Ponies, Olde English Southdown Babydoll Sheep, Saxony & Campbell ducks and ducklings, Cochin & Polish chickens, Lionhead bunnies and miniature Sicilian donkeys. Enjoyment for kids of all ages!
There are many returning favorites providing endless entertainment on the 10 stages in the Village:
The Tortuga Twins – An annual favorite – This audience-interactive comedy show will have you screaming with laughter.
The Mud Show – Splatter Time Players – It's a dirty, dirty show filled with good clean fun for all ages. See this crazy comedic duo execute back flips and belly flops right into the mud! Hint: Sit in the front rows AT YOUR OWN RISK. However, a muddy mark of distinction is provided at no extra charge.
Birds of Prey Falconry Exhibition – You'll be astounded as the spectacular hawks, eagles, owls and vultures demonstrate their free-flight skills directly over the heads of the audience! They are amazing creatures in an amazing show.
The Ded Bob Sho – We're not really sure when Ded Bob passed, but he keeps showing up every year at the Festival with his unique brand of graveside humor.
Cirque Du Todd – This Festival performer (Todd Key) is the longest running performer at the Georgia Renaissance Festival – Not all 30 years, but almost, 29 to be exact. His juggling, ladder balancing, slap boxes and rope tricks will delight kids and adults.
Hey Nunnie, Nunnie! This sister act will have you rolling in the pews. The unconventional Mother Redempta and the mischievous ukulele wielding Sister Philomena Claire dazzle with comedic escapades – Cracking jokes, singing songs, and "counseling" unsuspecting audience members. These silly sisters could make the Pope laugh!
Coming May 2 & 3…It's Kids FREE Weekend with special guest SpongeBob SquarePants! Children ages 6-12 get in FREE with a paid Adult. Kids under 5 are FREE and Parking is FREE!
30th Annual Georgia Renaissance Festival (Opened in 1986) – An Interactive arts and entertainment festival combining outdoor theatre, circus-style
entertainment with an arts & crafts marketplace and jolly olde English pubs set in a 32-acre recreation of a 16th Century English Village
– Open Now – June 7, 2015 (8 Weekends) – Saturdays, Sundays and Memorial Day – 10:30am – 6:00pm – Open Rain or Shine – FREE PARKING – Located just south of Atlanta's Airport at I-85, Exit #61 (Peachtree City/Fairburn) – 200,000+ Annual Attendance – Voted Top 20 Event in 2014 by Southeastern Tourism Society – 10 Stages with Continuous Entertainment – 150 Shows Daily: Comedy, Music, Circus-Style Shows and Jousting Knights – 150+ Master Artisan Crafters in the Village Marketplace – Renaissance Games of Skill: Axe Throwing and Target Shooting with Bow & Arrow – Human-Powered Thrill Rides for Kids of all Ages – General Admission at The Gate: Adult $22 / Child Ages 6-12 $10 / Senior 60+ $20 – Children Under 5 are always FREE – Discount Tickets Online at GArenfest.com: Adult $19 / Child $8 / Senior $18