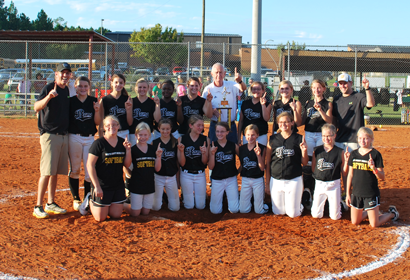 If there was a state championship for middle school, the Worth Middle Lady Rams would certainly be at the top of the list. These gals have beaten schools in every classification from every part of the state.
Yesterday at the Diamond Den the Lady Rams defeated the Wilcox Lady Patriots 5-2 to complete a perfect 25-0 record and win the SMAC Region Championship. Most of the wins were by mercy rule as 18 of the 25 wins came via shut out.
Taylor Layfield pitched five strong innings striking out 11. Caroline Newton pitched two innings and benefited from great defense to stop Wilcox threats in the final two frames.
Layfield shut down Wilcox in the first inning. Newton singled with two outs, stole second base and scored on a solid single by Brinsley Graddy. The Lady Rams had the lead – they would never give up.
Strong pitching by Layfield carved up the Wilcox lineup through three innings. Abby Adkins, Taylor White and Newton loaded the bases in the bottom of the third but couldn't get any runs across. Wilcox continued to struggle at the plate in the fourth inning as Layfield appeared more confident and stronger. Her change up was proving to be her out pitch as Wilcox could never figure out an offensive attack.
Tamia King reached third while Scott reached second. Rebekah Hughes came up and this outstanding bunt artist once again laid down a perfect hit and beat the throw by a step sending King home to give the Lady Rams a 2-0 lead with two runners on.
Now Layfield steps up and wastes no time as she sends the first pitch over the left field fence approximately 250 feet for a three run homer and a commanding 5-0 lead.
Layfield pitched a solid fifth inning then gave way to Newton in the sixth.
Lack of defensive communication and two errors turned a single base hit into two runs as the Lady Patriots proved they would not go away quietly. Ahead by three and facing a threat the infield gobbled up the remaining efforts by Wilcox and moved to the final stanza.
The seventh inning saw the defense shine again as the third out came and the celebration was on.
Athletic Director Russ Beard presented the trophies to both teams and the girls could really breathe a sigh of relief as they ate cookies and snapped photos that will be talked about in scrapbooks for ages to come. This group of 8th graders move on to high school. But noone can deny this was simply the best middle school team in Worth County history bar none.
Coach Mitchell praised the team after the game for their hard work against an opponent that had been the only consistent threat his Rams had faced all year. He cited it was a team win on this day. Defense hitting and pitching played a part today. He said Newton and Layfield carried this team on their shoulders all year but was glad to see everyone make a positive contribution in such an important game.
The sun has set on this season but what a great year it was. Next year should be just as exciting and the high school inherits a group of proven winners that could put that state champ trophy in the case on King Street.