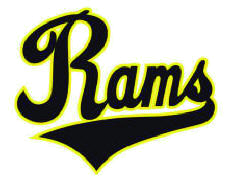 Following the ten day Christmas vacation, the Worth County Rams basketball team travelled to Covington, Georgia to compete in the Eastside Holiday Tournament hosted by Eastside High School. On Monday, December 29, the boys took on the Thomson High Bulldogs and won by a final score of 86-59. Then the following day, the Rams faced the Southwest Atlanta Christian Warriors. While the second game in the tournament was closer, Worth never trailed in the game, and the Rams still won convincingly, 81-69.
After posting this pair of wins in the Holiday Tournament, the Worth team took another week off before travelling to Albany last Tuesday for a region contest against the Westover Patriots. Though they only trailed by a point after the first quarter, the Pats outscored the Rams in every period of the game to win by a final score of 71-54.
With school back in session, the basketball season was back in full swing last week. After playing Westover on Tuesday, the boys travelled to Valdosta on Friday night to play the Lowndes Vikings for the second time this season. Worth first faced the Vikings in the season opener at home back on November 15. And, the Rams decimated Lowndes, 81-41. Obviously, the home court offered a certain advantage for the Valdosta team in the rematch, but the Rams secured their second non-conference win against Lowndes last Friday by a much closer final score of 69-61.
Then on Saturday, the Worth basketball team returned to Albany to battle against the Dougherty Trojans. The Rams also played Dougherty earlier in the season at home and pulled off a narrow victory for their only region win of the season, 82-79. The rematch in Albany would yield a similar result.
The Trojans took the lead early in the game, but Worth battled back to edge out the contest by another close final score of 79-73. The basketball team picked up their fourth win in five games since the Christmas break.
Prior to Saturday's game against Dougherty, the Rams were averaging 76.5 points per game, 26 defensive rebounds and 12 offensive rebounds for an impressive 38 rebounds per game. Furthermore, the Rams are averaging 7 steals, 10 blocks, and 16 turnovers per game. And as for shooting percentages, the Rams hold a 52 percent field goal average so far this season. Their two point shot percentage stands at 59, and their free throw average is also 59 percent for 2014-15. However, the Rams have only hit 32 of 124 three point shots for an average of 26 percent.
Worth now holds a 7-5 overall record and a 2-3 record in 1-AAAA play. On Thursday, the basketball team will return to the Worth County gym for their first game in a month as they host the Fitzgerald Purple Hurricanes. Then on Friday, the Rams will hit the road again for another region contest in Albany against the Monroe Tornadoes.