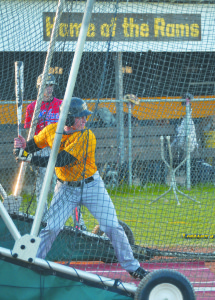 Following a phenomenal 2104 effort in which the Worth County Rams baseball team rallied to a 19-9 overall record and a 12-2 record in region play, the Rams narrowly missed the region title last year, and hosted a playoff series against Statesboro before the season ended. And, with only three seniors graduating in 2014 and a slew of seven hungry juniors stepping up to fill their shoes, the Rams hope to build on last season's glory as the 2015 spring schedule is set to begin.
The Rams will showcase their talent this Saturday in the annual 50 inning game at Pope Park in Sylvester.
The current crop of seniors includes Denzel Gowdy who maintained the highest batting average on the team last year at .521. Gowdy hit four homeruns, drove in 31 RBIs, and hit ten doubles for a .887 slugging percentage and a .606 on base percentage. Then, you have Jonathan Cirullo who racked up 30 stolen bases in his junior season, and Aaron Franks who maintained a .364 batting average last spring. Franks is stronger and quicker this year, and he looks ready to smash a few over the Pope Field fence.
In addition to this speed and strength at the plate, Cody Reddell will return to the mound as a junior for the Rams this season. Reddell held the lowest ERA among the Rams bull pen last year at 2.62, and he was named utility player of the year by Coach Smith for his diversity on defense.
And, Jake Jones is returning as a junior after enduring a harrowing sophomore season. Jones was awarded the Ram tough award at season's end. After playing the first five games of the season, a CAT scan revealed that Jones had fractured his back in two places during the first game. Now, after a year of recovery, Jones is again exemplifying his toughness on the field by taking his first swings during batting practice.
To say the least, the Rams have the attitude, determination, and skill to mark that elusive 20 win season and bring home another region title, but like every other sport in the 2014-15 school year, the baseball team will have some new hurdles to overcome in Bainbridge, Thomas County Central, and Cook County. Worth has possibly never played the Bearcats, they have not played TCC in nearly 15 years, and the Rams have not faced Cook since the first game of the 2009 season.
While Bainbridge and TCC both struggled in the higher AAAAA region classification last year, both teams have a depth on the bench and in the bull pen that could cause unique problems for the Rams in 2015. Meanwhile, Cook played in the smaller 1-AA region last year, but the Hornets dominated the region with a 10-2 record and Cook went deep into the playoffs.
Looking ahead, Rams Head Coach Will Smith says,
"The biggest thing is we've got a good team. We've got great ball players, and we've got great young men. It's amazing how much fun we're having as a team, but also how hard they're working because they want to be successful as a team. But, we've got an extremely tough region. You've got an Elite-8 team from last year in Cook County, you've got the state runner up in Crisp County, and you've got a perennial nemesis in Cairo. Now you're bringing in 5A powers from Bainbridge and TCC. Not to mention the Westover team that can beat you any day… We have 20 region ball games this year, so dynamics are different."
Unlike football and basketball, the baseball's region games will not be divided into sub-regions. Therefore, every region game counts, and once the season gets started good, the Rams will be playing three 1-AAAA games per week.
Beyond the rigors of this year's schedule, Coach Smith also mentioned a new tradition to begin this spring with the inaugural "Battle of the Border" game between Worth County and the Turner County Rebels. The Rams coach says Turner has been one of the oldest and fiercest non-region competitors to Worth for many years, so he and Rebels Coach David Sims thought it would be a good idea to up the ante a little more.
So, on Saturday, April 18, Worth will host Turner in a day long, three game event to see which Southwest Georgia county holds the most talent. At 10:00 a.m., the JV teams will face off to get things started. Then at 1:00 p.m., a nine inning alumni game will be held in which the Fungo Man machine will pitch, and perhaps a couple of volunteer umpires will preside over the friendly contest. Finally, at 4:00 p.m., the varsity teams will take the field for the game that counts. The county that wins two of the three games will be awarded a trophy or plaque that the team gets to keep until they are beaten in a future border battle. All in all, it should make for a great day of family fun at Pope Park.
"We've never done anything like this before," Coach Smith explains. "But, this a historic rivalry for us. We're going to get our alum together and they're going to get their alum together… It's just trying to get the community together and have a little fellowship. This is a great game. We take it seriously, but at the same time we don't need to take it too seriously. And, a great thing to do is get the community involved by getting two schools together and bring out some old alumni."
Following Saturday's 50 inning game, the Worth baseball team will travel to Moultrie on Thursday, February 12 to take on the Colquitt Packers in a scrimmage game. On Monday, February 16, the regular season begins with the Rams travelling to Turner County to face the Rebels. The Rams' first home game will be held on the following Monday, February 23, as the Worth boys host the Baconton Charter Blazers.