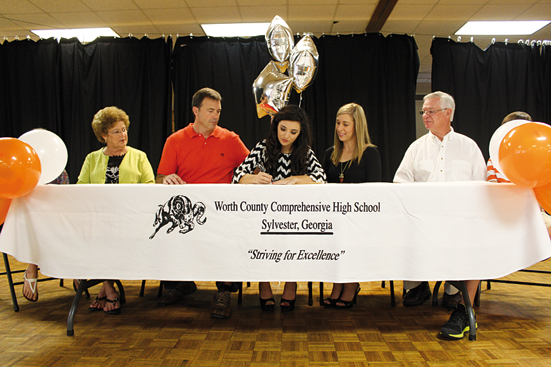 Candace Cook, a Sylvester native, recently signed a cheerleading scholarship with Mercer University. Born to Joey and Rewa Cook on October 16, 1994, Candace has been involved with the sport of cheerleading since the 6th grade. Competition cheerleading has taken Candace to Region and State competitions two years in a row during her high school career.
Not only is she heavily involved with cheerleading but Candace was an honor graduate and ranked third in her graduating class. She also received a Certificate of Merit and was on the Principal's List for three years in a row.
Although Mercer was not Candace's first choice of colleges, having initially set her sights on ABAC, she stated that when she visited the college campus she "fell in love" and immediately changed her decision. She also said she was a "nervous wreck" while waiting on the outcome of her scholarship but as soon as she heard the news she "tackled her mom" in a fit of excitement. Candace plans to live on campus and study Biology so that she can eventually attend Dental School and become an Orthodontist. She and her family are very optimistic about her future at Mercer and although she may be nervous about moving to a new home, she is ecstatic about her plans.