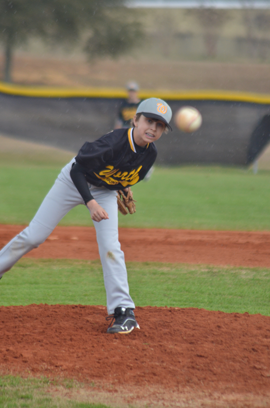 During last week's game, Crisp scored a run in the first inning and two more in the third. Worth County Middle School B Team didn't retaliate until the bottom of the third inning when Garrett Kelly crossed home plate for a single run. B Team held Crisp in the fourth inning, but the Rams exploded with 13 runs in the bottom. Chandler Moore began the fourth with a error on the pitch to get on base.
Hunter Goodwin hit a double with an RBI. Gabe Goff followed with a single with two RBIs and David Jordan walked. Daylon Bowen reached first by another error while Garrett Kelly singled to right field followed by Malik Dassie who walked. Then two more errors allowed Parker Castleberry and DJ Edwards to score.
At this point everyone had batted once with only one out in the inning. The B Team started a second round of batting in the fourth with two walks by Chandler Moore and Hunter Goodwin, followed by a double to right center by Gabe Goff and two more walks from Donovan Dorough and David Jordan.
The bleeding stopped with the next two batters with an out to the short stop and a strike. Crisp Co. tried to come back, but was only able to score a single run. Chandler Moore scored the win over Crisp Co. with four strike-outs, one walk, and one hit by pitch. Final score for the Worth County Middle School B Team Rams was 4-14.
The Middle School A and B Teams traveled to Baconton Charter school last Wednesday. Landon Paramore hit a single followed by Hunter Goodwin with a two-run homer in the top of the first inning. The Rams scored a single run in the third and three more in the fourth. The Rams were able to get on base with walks from Riley Kelly, David Jordan, Gabe Goff, Cody Ragan, Hunter Goodwin, Seth Newell (two), Ethan Hamilton and singles from DJ Edwards, David Jordan, and Gabe Goff. Unfortunately it wasn't enough. The Rams fell to Baconton Charter 6-16 in the six innings of play.