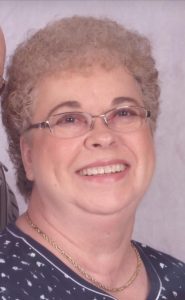 TIFTON – Rachel Juanita "Nita" Coleman, 70, of Tifton passed away Saturday, May 5, 2018, at her residence. Her funeral service was held at 3:00 p.m. Thursday, May 10, 2018, in the Chapel of Bowen-Donaldson Home for Funerals with the Rev. Ronnie Cone and the Rev. John Cone officiating. A private burial was held for Ms. Coleman at Pine Forest Cemetery in Worth County, where she was laid to rest. 
Born May 27, 1949 in Moultrie, Ms. Coleman was the daughter of the late Mythra Clinton Rouse and Ethel Mae Alred Rouse. She was also preceded in death by one daughter, Patsy D. Coleman; and one brother, Johnny Paul Rouse. She always had a smile and had a heart of gold and always uplifted everyone who was around her. She worked as the manager of Suwanee Swifty. 
Ms. Coleman is survived by her companion, John Burgess of Tifton; one step-son, Lonnie Burgess of Tifton; one step-daughter and her husband, Melissa and Jim Galesby of South Carolina; two brothers and sisters-in-law, Henry Tillman and Janice Rouse of Sylvester and Leonard Clinton and Olivia Rouse of Milledgeville; two sisters and one brother-in-law, Evelyn Margaret McDonald of Sylvester and Marjorie and Sid Chase of Suffield, Connecticut; a sister-in-law, Johnie Ruth Rouse of Vienna; two grandchildren, Corey Pate and Lauren Pate; and one step-grandchild, Justin Walker.
Condolences may be sent to the family at the online guest registry at
www.bowen-donaldson.com
.  Services for the Coleman family were under the care and direction of Bowen-Donaldson Home for Funerals.