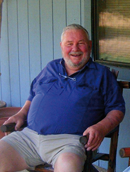 March 23, 1938 – July 23, 2013
Richard Taylor "Dick" Carter, 75, of Brookings, OR passed away at Good Samaritan Curry Village on Tuesday morning, July 23, 2013.
He was born in Los Angeles County, California on March 23, 1938 to the late Carl Alfonso and Marguerite Clark Carter. He is survived by his beloved wife, Eleanor P. Carter of Brookings; brother, David Bass of Laguna Hills, CA; daughter, Kathleen Shuman of Waynesville, NC and her husband Bill; daughter, Patty Sykstus of Huntsville, AL and her husband Ron; their mother, Margaret O. Jones of Huntsville, AL; grandchildren, William, Emily and Natalie Shuman, all of Waynesville, NC; grandson, Jack Sykstus of Atlanta, GA; grandsons, Tom and Sam Sykstus of Huntsville, AL. He was the nephew of the late Cecil Crisp Carter and Earl Carter of Sylvester.
He was preceeded in death by his sisters, Beverly Kennedy of Lillian, AL and Angela Driesbach of Pensacola, FL.
Dick was an avid baseball fan all of his life and his most enduring memory was being a pitcher with the 1952 Babe Ruth League baseball team from Pasadena, CA, which participated in the inaugural Babe Ruth League World Series in Trenton, New Jersey. He attended Pasadena City College, Los Angeles State and played baseball for UCLA until an injury ended his playing career.
After service in the Army at Fort Huachuca, Arizona, Dick parlayed his education into a life-long career in accounting and project management.
His career and love of travel took him all over the United States, making his home not only in Southern California but also in South Florida, Arizona, Texas and New Mexico. It was while working in Santa Fe, New Mexico that he met and married Ellie who would be his constant companion and love for the last 25 years of his life. Choosing to escape the heat of the south and southwest, he and Ellie retired to Brookings, OR, providing a wonderful place for children and grandchildren to visit for the last 10 years.
Dick will be remembered for his incredible story telling, his deep, deep bass singing voice, his infectious laugh and the enthusiasm with which he tackled all of the events of his life.
A Celebration of Life Memorial Service will be held at 11:00 AM on August 24th at Victory Park NW Picnic Pavillion #3 which is located on the NW corner of Victory Park on N. Altadena Street and Cooley Place in Pasadena, CA. This is the park where Richard played on the 1952 Babe Ruth League Team. Family and friends will gather after the service at a nearby restaurant to visit and share stories. Memorial Donations can be made in his name (note "In Memory of Richard Carter" on the check) to Babe Ruth League Baseball Alumni Association, P.O. Box 5000, Trenton, NJ 08638.