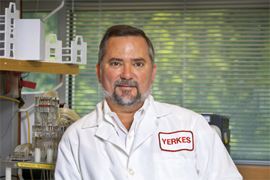 Dr. Larry J. Young, a Sylvester native and former Worth County High School graduate and the father of three daughters educated at WCHS has received a $9.5 million grant from the National Institute of Health with a goal to develop treatments for autism.
Dr. Young, Professor of Psychiatry at Emory University and his team has received the five year, $9.5 million Conte Center grant to study oxytocin, a brain chemical that forms the strong bonds between a mother and her baby. He will be studying how brain chemistry involved in mother-infant bonding and attachment affects brain communication and mental processing of social experiences in animals and humans, including those with autism spectrum disorder. The team's goal is to find answers that will help the development of new treatment strategies for improving social functioning in autism.
Larry Young is the founding director of the Center for Translational Social Neuroscience (CTSN), which seeks to use knowledge of brain chemistry to develop treatments for many disorders where social relationships disrupted. He is also Chief of the Division of Behavioral Neuroscience and Psychiatric Disorders at the Yerkes Primate Research Center, and will lead the Conte Center Team in the research.
"This award is a testament to the outstanding international recognition of the CTSN members of our Conte Team" says Young. "I am convinced that our research team will make significant advances in social neuroscience that will ultimately improve the treatment of mental health in disorders of the social brain."
While most know of oxytocin for its role in forming the powerful bond between mother and baby, recent studies have demonstrated oxytocin also plays a more general role in regulating how humans relate to each other.
Dr. Young is a 1985 graduate of WCHS and went on to college at the University of Georgia where he majored in Biochemistry. He has been employed with Emory since 1994 where he is now the William P. Timmie Professor of Psychiatry.  He and Michelle Willingham Douthit have three daughters. The eldest Leigh Anna Young, graduated from WCHS and now is a senior at UGA. Leigh Anna and her father traveled to India last year to teach Tibetan monks neuro science and personally met with the Dalai Lama. Leigh Anna is a psychology major and spent the entire summer at a field site in Brazil, studying capuchin monkey behavior; she too desires to be a scientist. Their middle daughter, Olivia graduated from WCHS and is now attending Kennesaw State University and wants to work with autistic or otherwise disabled children. Their youngest daughter, Savannah is currently a senior at WCHS, still weighing her career options.
Dr. Young and his wife, Anne Murphy Young are both scientists and love what they do. Mrs. Young is also a neuroscientist and professor at Georgia State University in Atlanta. One of their favorite past times is introducing scientists from around the country and the world (ex. Japan, Hungary, China) to good old southern cooking in their home in Decatur, Georgia, something Larry learned from his mother, Margaret Giddens. "No cuisine in the world can beat mama's fried chicken, corn bread, okra and peas," Larry says.
To bring Dr. Young a little closer back to Sylvester, you may want to read the book he published last year The Chemistry Between Us available on amazon.com.