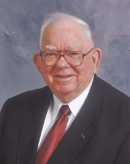 Lt. Col. William H. "Bill" Woolard, U.S. Air Force, ret. (84) of St Simons Island died July 9, 2013.
Born in Newnan, GA, in 1928, he was the son of Leona H. and Banks T. Woolard, both deceased. He had one sister; Ann W. Dew (deceased).
Lt. Col. Woolard entered the Army in 1946, prior to the end of WW II, transferred to the Army Air Corps and was on active duty in 1947 when the U.S. Air Force became a separate service. He retired from the U.S. Air Force in November 1970. He was a graduate of Sylvester, GA High School, attended North Georgia College and graduated from the University of Georgia (BBA, Accounting & Economics). He also attended the University of Alabama in Birmingham (Cert. of completion in Hospital Administration). After retiring from the Air Force, he served in several hospitals as administrator and later obtained a Real Estate Broker's license and was one of the first in Georgia to obtain a General Real Estate Appraisal license. After working for several firms, he went into business for himself until he retired completely due to health.
He and his wife Jean moved from Sylvester to St. Simons Island in 2003 to be near their two eldest daughters. While living in Sylvester, he was active in Pinson Memorial Methodist Church, where he held positions of Sunday School Teacher, Sunday School Superintendent, Board of Stewards, Board of Trustees, Chairman of Finance Committee and also sang in the choir and served on various committees. He was active in Jaycees and Kiwanis and served as Club President and Lt. Governor, 13th Dist. of Georgia Kiwanis. He served on the Worth County Board of Appraisers and was Chairman of the Board of the Sylvester Housing Authority where he was honored by having the Housing Authority Residence's Resource Building named for him. He was a member of VFW Post 4092, The American Legion Post 166, the Military Officers Association of America, and St. Simons United Methodist Church.
Survivors include his wife of 63 years, Jean Shiver Woolard; his daughters, Nancy Claire Rentz (John), Lois Elizabeth "Beth" Fennell (Chip) and Mary Jean Alford (Randy); son, John Shiver Woolard (Nina); grandchildren, Ryan Rentz, Claire Rentz, Meredith Woolard, Megan Arredondo (Richard), Patrick Woolard (Kayleigh), Libby Fennell, Jacob Fennell, Matt Alford (Amber), Kristen Courson (Clint) and Laura Medlin (Tyler); great-grandchildren, Addie Alford, Luke Courson, and Holly Arredondo. He is also survived by his brother and sister-in-law, Mr. and Mrs. Joe Kemp Shiver (Mae) and sister-in-law Mrs. Ann Shiver.
In lieu of flowers, the family requests memorials to St. Simons United Methodist Church 624 Ocean Blvd., St. Simons Island, Georgia 31522 or to Pinson Memorial United Methodist Church, P.O. Box 118 Sylvester, Georgia 31791.
A Memorial Service will be held at 11 a.m. on Saturday, July 13 at St. Simons United Methodist Church 624 Ocean Blvd., St. Simons Island, Georgia 31522 with Reverends Marcia Cochran and Josh Bizzell officiating and full military honors to follow.
Funeral services will be held at Pinson Memorial United Methodist Church, 109 E. Pope Street, Sylvester, Georgia 31791 on Friday, July 12 at 11, with visitation at 10, with Rev. Mike Davis, Rev. Marcia Cochran and Mr. Joe Dinkel officiating with interment to follow in the Hillcrest Cemetery, Sylvester.
Serving as pallbearers will be Ryan Rentz, Matt Alford, Jacob Fennell, Joe Dinkel, Steve Bennett, David Shiver and Donnie Shiver.