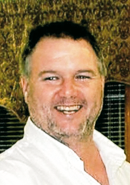 Carson DeWayne Bradley, 44, of Poulan, Ga., died Sunday, Nov. 3, 2013, at his residence.
Funeral services were held at 11 a.m., Thursday, Nov. 7, at Baker Funeral Home Chapel with Rev. Dan Broom officiating. Burial followed in Poulan City Cemetery with Jason Duke, Charles Duke, Jeffery Barnes, William Barnes, Larry Griffin and Jerry Griffin serving as pallbearers.
Born Feb. 28, 1969, in Sylvester, GA, he was the son of Opaline Lovell Clark and the late Carson Caulder Bradley. He was employed as a painter at Bryan and Jordan Paint and Body Shop and was of the Baptist faith.
He was preceded in death by a brother, Randall Caulder.
Survivors include son, Cory Bradley and wife Heather of Baconton, GA; daughter, Brittany Bradley of Poulan; brothers, David Bradley and wife Dorothy of Tifton, Ricky Caulder and Michael Caulder; sisters, Yvonne Harris of Poulan, Theresa McDonald and husband Jr. of Sylvester, Judy Barnes and husband Jeffery of Poulan, and Bernice Harper and husband Kyle; and grandchildren, Carson Bradley, Alliemae Bradley and Brody Bradley.
Visitation was held Nov. 6, from 6 to 8 p.m., at the funeral home.
Arrangements have been entrusted to Baker Funeral Home.
Please leave condolences to the family at www.bakerfuneralhomeofmoultrie.com and www.moultrieobserver.com.