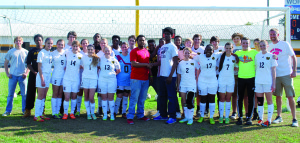 Before last Tuesday's games against Thomas County Central, the entire Worth County Rams soccer program gathered at the Southern goal near the field house and presented to 2014 WCHS graduate Dontate Cooper. Cooper is battling stage 4 Hodgkins Lymphoma, and the money will help Dontate and his family pay for medical bills.
The soccer boosters held an auction during the Pink Out game against Fitzgerald on March 3 with an array of items ranging from Costa Del Mar sunglasses to pies and gift baskets. Soccer booster member Lisa Jones says the team strives to donate the proceeds to a local individual in the community each year rather than giving the money to a larger organization. And this year, the obvious choice for the donation was Cooper.
The recent Worth grad was a two sport athlete at WCHS playing both baseball and basketball. He earned a scholarship to play basketball at Fort Valley State, and he was supposed to start his college basketball career in January. However, the Dontate was in and out of the hospital throughout the fall with concerning health issues before finally being diagnosed in December with Lymphoma.
Now, Cooper has gone through his course of chemotherapy, and he is healthy and feeling good. Despite the bleak prognosis, Cooper is a young, strong athlete with a winning determination, so he has a good chance of fighting off this disease. As Worth soccer coach Colby Simpson explains,
"Dontate was a student athlete here when I started coaching, and I have always admired his passion for being a student athlete. He's a good kid and a hard worker, and he's struggling with something that is unfortunate. It takes a strong willed person like himself to overcome a trial like this."
The soccer coach went on to say,
"We are WCHS, and we want to make everybody aware in the community and across the country. People should show their support."
Still, the future is bright for Dontate. He says he feels good and he looks forward to moving to Brunswick, Georgia in the near future. Former WCHS assistant basketball coach Pat Marshall has accepted a coaching position in the area, and Cooper is going with him to serve as an assistant coach while attending college. He says he plans to study Physical Education in college and he hopes to pursue a career in coaching that may lead him back to Sylvester in the future.